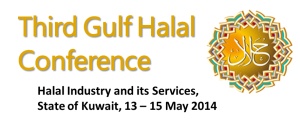 Under the auspices of His Excellency Dr Naif Ajaj Al-Ajmi, Minister of Justice and of Awqaf and Islamic Affairs,Third Gulf Conference on the Halal Industry  will be held between  13-15 May 2014 in Sheraton Hotel, State of Kuwait.
The Conference is organised by Ministry of Awqaf and Islamic Affairs & Kuwait Institute for Scientific Research (KISR).
Department of Halal Certification will participate in this conference.
For more information about the Conference please visit  http://azkahalal.wordpress.com/halal-gulf-conference-2014/